About Kopel
Kopel's C.V. of Publications
Available here.
---
Organizations
Research Director of the Independence Institute.
Adjunct Professor of Advanced Constitutional Law, Denver University, Sturm College of Law.
Associate Policy Analyst, Cato Institute.
Vice-Chair, Colorado State Advisory Committee to the U.S. Commission on Civil Rights.
Trustee, Anne S.K. Brown Military History Collection at the Brown University Library.
Adjunct Professor of Law, New York University, 1998-99. Course syllabus.
Website producer, MaryLinks.
---
Background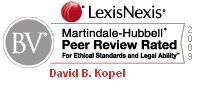 (Ratings explanation.)

Former Assistant Attorney General, State of Colorado, Hazardous and solid waste enforcement.
University of Michigan Law School, J.D. magna cum laude. Contributing Editor, Michigan Law Review.
Brown University, B.A. in History with Highest Honors. National Geographic Society Prize for best History thesis.
NRA-certified instructor for Pistol and for Personal Protection. NRA-qualified Distinguished Expert rating for Handgun.
Memberships
Academy of Criminal Justice Sciences (Life member), Mariological Society of America, National Rifle Association (Benefactor member). National Academy of Television Arts and Sciences.
---
Citations of Kopel in legal opinions and law review articles.
---
To contact Kopel, write "david", then "@", then "i2i..org"
---
Share this page:

Click the icon to get RSS/XML updates of this website, and of Dave's articles.
Follow Dave on Twitter.
Kopel's Law & Liberty News. Twice-daily web newspaper collecting articles from Kopel and those whom he follows on Twitter.
Author page on Amazon.
Search Kopel website:
Make a donation to support Dave Kopel's work in defense of constitutional rights and public safety.

Nothing written here is to be construed as necessarily representing the views of the Independence Institute or as an attempt to influence any election or legislative action. Please send comments to Independence Institute, 727 East 16th Ave., Colorado 80203. Phone 303-279-6536. (email) webmngr @ i2i.org
Copyright © 2018